Gouging welding machin 600 AMPS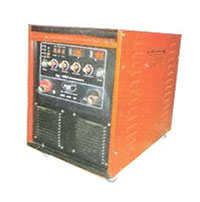 Salient Features :
• Light weight & compact (80 % less weight compared to conventional machines).
• On load power consumption 50% lesser than conventional machine.
• Designed to wotk under wide voltage fluctuations protected against over voltage, under voltage, single phasing, overheating with indications.
• In-built selectable pulsing of 1 to 10 Hz of output current.
• High OCV & controlled start current ensures reliable electrode ignition.
• Fast regulation speed & excellent dynamic properties ensure spatter free welding performance even with different electrodes.
• Reliable start even at 3 amps in Tig without any surge in welding current makes it suitable for thin sheet welding.
Applications :
• Chemical plants equipments
• Brewery Plants
• Dairy Equipments
• Food Processing Machinery
• Pharmaceutical Machinery
• Pipeline Welding
• Structural Fabrication
Specifications
MODEL

ARC 180

ARC 220

ARC 350

ARC 400

ARC 500

ARC 600

INPUT














INPUT SUPPLY

195V-265V

350V-465V

350V-465V

350V-465V

350V-465V

350V-465V

PHASE/FREQ.

1 , 50-60HZ

3 , 50-60HZ

3 , 50-60HZ

3 , 50-60HZ

3 , 50-60HZ

3 , 50-60HZ

INPUT KVA @ 100%

3.7

5.4

9.2

13.7

15.6

19

INPUT HP @100%

3.33

4.86

8.28

12.33

14.04

17.1

OUTPUT














OCV - DC

75-85V

75-85V

75-85V

75-85V

75-85V

75-85V

CURRENT RANGE AMPS

5-180

5-220

5-300

5-400

10-500

10-600

CURRENT @ 60% AMPS

180

220

300

400

500

600

CURRENT @ 100%

124

170

231

308

380

450

DYNAMIC ARC FORCE

0- 100 %

0- 100 %

0- 100 %

0- 100 %

0- 100 %

0- 100 %

PULSE FREQUENCY HZ

-

1-10

1-10

1-10

1-10

-

CLASS OF PROTECTION

IP 23

IP 23

IP 23

IP 23

IP 23

IP 23

OTHER

DIGITAL AMMETER

NA

Provided

Provided

Provided

Provided

Provided

DIGITAL VOLT METER

NA

NA

Provided

Provided

Provided

Provided

CURRENT PRESET

Optional

Optional

Optional

Optional

Optional

Optional

FAN ON DEMAND

NA

NA

Optional

Optional

Optional

Optional

CLASS OF INSULATION

H

H

H

H

H

H

COOLING

FORCED AIR

FORCED AIR

FORCED AIR

FORCED AIR

FORCED AIR

FORCED AIR

DIMENSIONS














W×L×H IN MM

200×440×290

235×535×330

320×610×410

335×620×430

540×710×470

540×710×470

WEIGHT KGS.

15

25

40

47

66

70

MODEL

ARC 180
HF/PULSE

ARC 220
HF/PULSE

ARC 350
HF/PULSE

ARC 400
HF/PULSE

ARC 500
HF/PULSE

ARC 600
HF/PULSE

PRE FLOW

1-10 SEC.

1-10 SEC.

1-10 SEC.

1-10 SEC.

1-10 SEC.

1-10 SEC.

POST FLOW

1-10 SEC.

1-10 SEC.

1-10 SEC.

1-10 SEC.

1-10 SEC.

1-10 SEC.

UP SLOPE

1-10 SEC.

1-10 SEC.

1-10 SEC.

1-10 SEC.

1-10 SEC.

1-10 SEC.

DOWN SLOPE

1-10 SEC.

1-10 SEC.

1-10 SEC.

1-10 SEC.

1-10 SEC.

1-10 SEC.

PULSE TIME

10%-90%

10%-90%

10%-90%

10%-90%

10%-90%

10%-90%

PULSE FREQ

1-10HZ

1-10HZ

1-10HZ

1-10HZ

1-10HZ

1-10HZ

DIMENSIONS

W×L×H IN MM

200×440×540

235×535×580

330×610×660

335×620×700

540×710×745

585×725×540

WEGHT IN KGS

25

35

61

66